| | |
| --- | --- |
| | ㆍ추천: 0 ㆍ조회: 8284 |
TCJ의 저자가 가장 만들고 싶은 라인 앰프 - 추천




Recommended Cathode-Coupled Amplifier Circuits


I know that many who find this website through Google searches quickly get lost in it; there is just an enormous amount of material. I can usually spot e-mail from these readers. It isn't hard, as they often begin with asking which guitar amplifiers or microphone preamps I sell. Or they ask a question that the previous blog was entirely devoted to answering. But then there are a few readers—who might have seen my name mentioned at another website or forum—that read this blog in hopes of finding the elusive solution to their audio problem, the problem of acquiring the best. They rapidly lose patience with my flood of circuit variations; they long for one circuit, and only one circuit, the Absolute Circuit (hey, what a catchy name for a website, www.TAC.com too bad it is already taken). They only want to see the best circuit. They want the answer—not more questions—and they want it now.
The source of this urgency is both interesting and saddening. For many audiophiles, their stereo is not just the means by which they can listen to music; rather, for them it is a vindication, a stamp of approval, a testament to their own superior discernment and refinement. Thus, an expansive sweep of possible circuits, without hype and the hard sell, is for these audiophiles, as useful as an honest used car salesman or a critical and judgmental therapist. In the land of consumption, those who consume the best are the best, as you are only as exalted as your consumption. So why don't I exalt only the best circuit, best tube, best plate resistor…?
To be honest, I haven't received a request asking me to name the best tube or plate resistor value in the last two years (I always answer with something silly such as a 36MG4 and 51.37K). But I do get a few asking what circuit would sound better than some current rave product like a Tube Glow Dynamics Model 8A-4, which invariably I have never heard of let alone listened to. Needless to say, "better" is seldom specified—you know, just better.
On the other hand, if asked what I would build, then I have no problem narrowing twenty circuits down to two or three. Thus, what follows are the cathode-coupled amplifier circuits what I would most like to build.


The Tube CAD Journal cathode-coupled amplifier shown above would be my first project. Why? Because it is simple, requires only two tubes (for stereo), and it promises some excellent results, as the circuit's design goals are low distortion, low noise, and high reliability. The 5687 is a great and fairly cheap dual triode, but other tubes can be used, such as the ECC99, 6DJ8/6922, 12BH7, 6H30, or even the 12B4, although four will be needed. The 10µF shunting capacitors can be Solen or Dayton polypropylene film capacitors (or 47µF electrolytic capacitors). The 10k 5W plate resistors might be hard to find, although Caddock MP9 series Kool-Pak non-inductive power resistors would work nicely and they are available from Mouser. The idle current per triode is 15mA, so each plate resistor must dissipate 2.25W. Thus, a cheaper route might be to place two 20k 2W resistors in parallel. Each of the two cathode resistor resistors must dissipates a bit less than 5W, so four 2W resistors could be placed in parallel to replace each.
Although the circuit provides its own PSRR enhancement via the bottom 10µF capacitor shunting the bottom cathode resistor, the power supply still needs to be fairly high quality. I would use FRED rectifiers and a 230Vac, center-tapped power transformer, which will yield about +/-330Vdc. A simple shunt-regulated power supply could be made using four 75V 5W zener diodes (1N5374B, for example) and two series voltage dropping resistors. The 860-ohm resistors will drop 30 voltage with 35mA of current through them, which means that the zeners see an idle current of 5mA and 0.75W of dissipation per zener. At startup, or if the tubes are pulled from their sockets, the zeners will have to draw the full 35mA of current, which will bring their dissipation up to 2.625W. Note that the line voltage need only sag by 10% to kill the shunt regulation and that if the wall voltage were to climb by 10%, the zeners would exceed their 66mA current limit trying to maintain regulation without the tubes sharing the load.

The heater power supply can be AC or DC, with the DC power supply the lowest noise. I would reference the heater power supply to +40Vdc. Why? The graph below is from Robert "Bud" Tomer's excellent book, Getting the Most out of Vacuum Tubes. Here we see three plots for three different heater voltages, 5.5V, 6.3V, and 6.9V against the heater-to-cathode voltage.


The interesting thing to note is that 0-volts does not yield the lowest failure rate. In fact, referencing the heater power supply to +80Vdc appears to result in the greatest reliability.
Remember that electrons flow from negative to positive, so if the heater is positive relative to the cathode, the heater cannot develop any current flow to the cathode, whereas if the heater is substantially more negative than the heater, it would be almost impossible to prevent a current flow from heater to cathode.

2등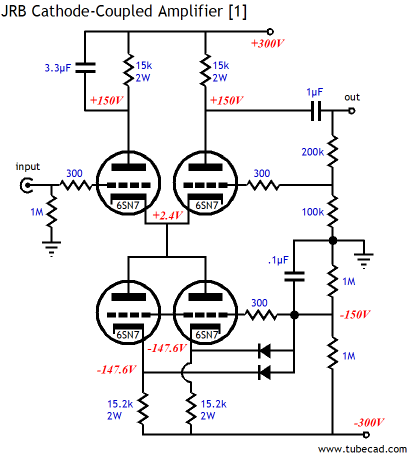 3등

4등